Workspace Toolbar¶
Workspace settings allow the user to customize any information to be displayed on the screen for monitoring the operation. Custom workspaces can be created, set any workspace as default in order to open it automatically on system start. All these options are available in the Workspace Toolbar, whichis shown on the image below.

Workspace Toolbar
| | |
| --- | --- |
| | Show/Hide Workspace |
| | Enable/Disable Worspace Telecommand |
| | Edit Workpace |
| | Many options to manage workspace |
Edit Workspace¶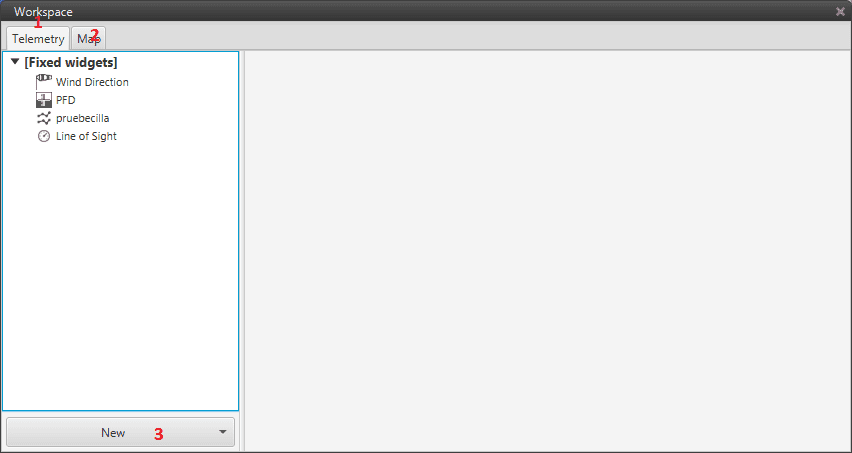 'Open Details' Menu
Telemetry: Displays a list with all the displays superposed to the map (widgets).

Map: Allows to set a map or background color to the workspace.

New: Allows the addition of new displays which can be configured in Widgets and Main.
By right clicking on an item in Telemetry or Map, the following dropdown list appears: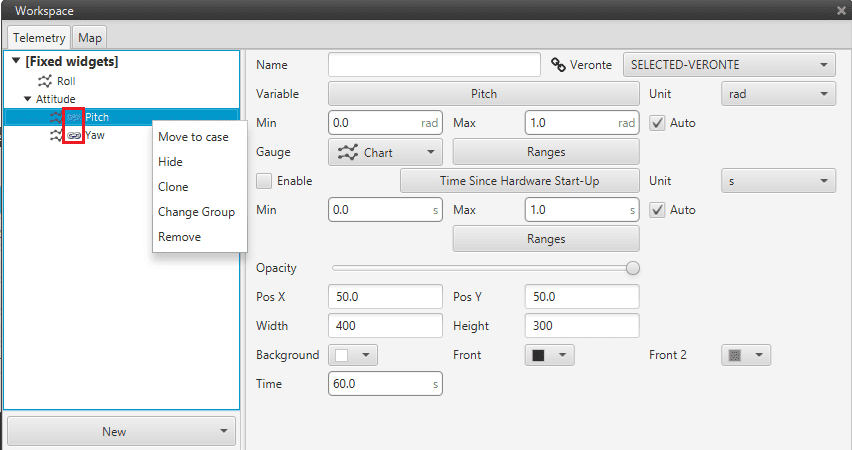 Move to case.

Hide: Occults the selected element.

Copy: Stores in the clipboard the selected element.

Change Group: Opens a window to type the group to place the element in. If there is no group created or the name typed does not belong to any group, this option will create one and store the element in it.

Remove: Deletes the selected element.
The option highlighted in red is the option to lock the chart. If all the elements of the group are marked they will move together, if one is not marked it could be moved with respect to the other group elements.
Add workspace¶
By clicking on the fourth icon or space (Previously on 'Edit' icon) a dropdown list appears with the current workspaces and some options. Workspaces can be created by clicking on Add workspace
New Workspace
The workspaces can be created from Empty, Create from template, Import or Clone current.
Workspaces can be modified too. The system allows the user to change the appearance and when it is completed, it can be exported.
Warning
Please note that Workspaces are not stored in Veronte Autopilot. Workspaces are located in the computer in which Veronte Pipe is installed.
In VerontePipe there are some templates available. When the workspace toolbar is open, the following templates can actually be opened:
Attitude_Adv (Advanced)

Attitude_PLANE

Attitude_VTOL

Default

Joystick Test

Map

Output Test

Sensors

Stick Inputs
Following a picture of one of them: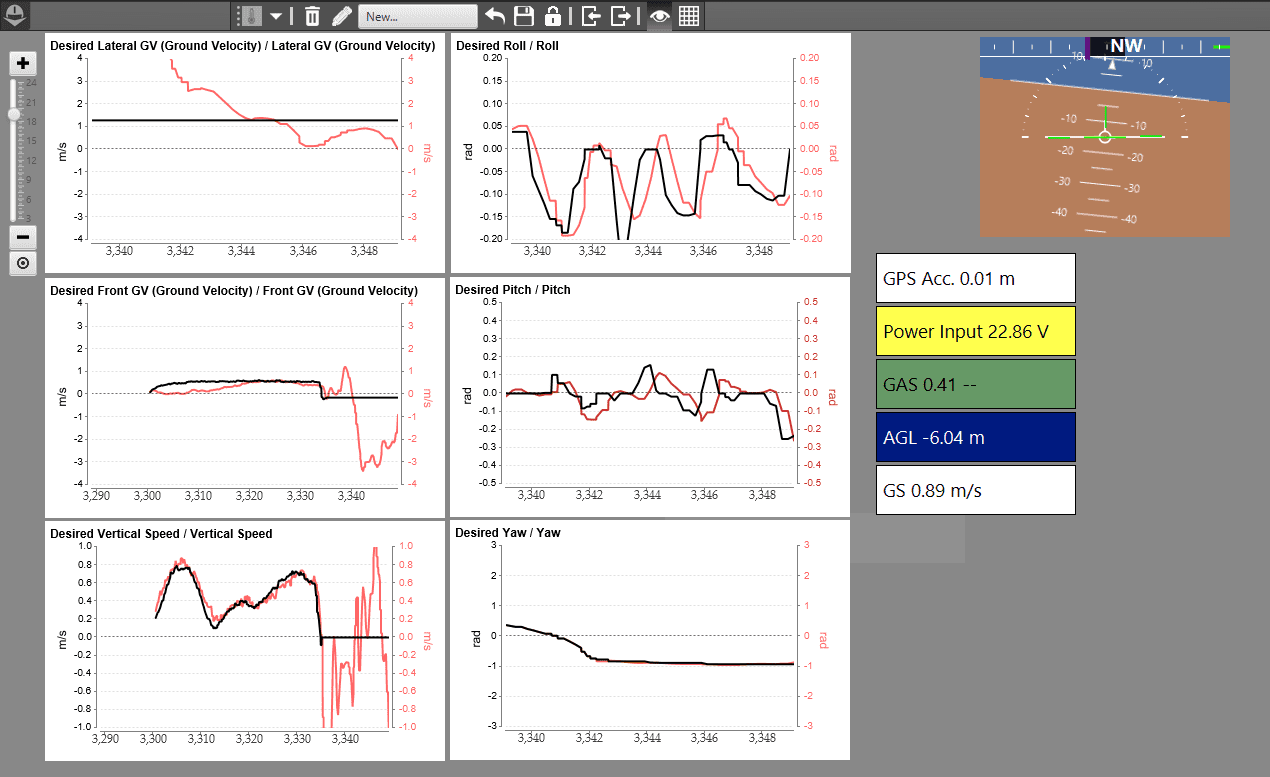 Attitude Adv template
To do this is sufficient to open the toolbar, then the workspace selection and click on New.
Import/Export Workspaces¶
It is possible to save the current workspace on a .wsn file, that can be loaded later in a different configuration.