Digital Input Manager¶
Pins 1-8 and 10-16 can work as Digital Input or Output as well as PWM. In order to configure some custom sensors such as a Stick PPM, RPM Sensor or a Pulse Sensor Enhanced Quadrature Encoder Pulse Inputs (EQEP) pins are reserved, which correspond to pins 55-58. These pins can also be used as Digital I/O.
Sensors using a Digital In are configured in this menu.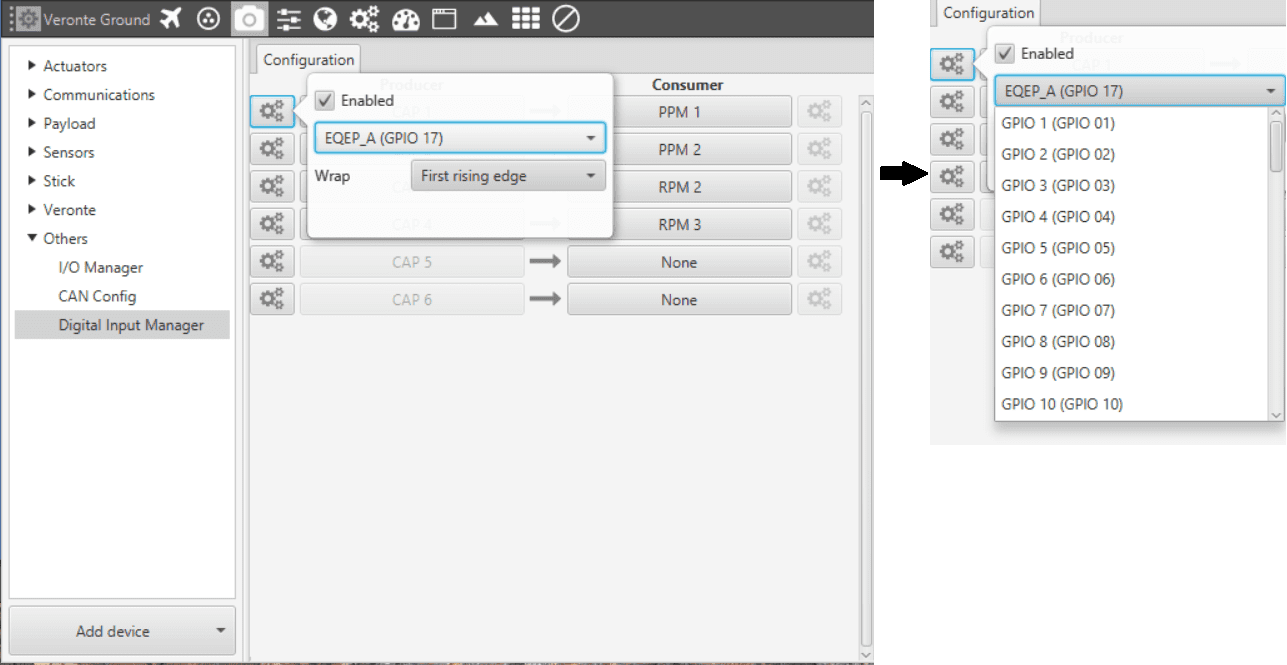 XPC CAP Configuration Menu
The process to configure a device can be done as follows:
Select a Producer.

Click on a button to select the type of Consumer, it is possible to choose among a Stick PPM, RPM Sensor or Pulse Sensor.

Configure the Producer, press on the configuration button and a new po-up window will show.

In the pop-up window is possible to select the pin where the device is connected. Pins available are GPIO 1 to 16, and EQEP A, B, S and I. When using the harness provided by Embention the transmitter Digital Input is connected to the pin 55 (EQEP_A) with pin 49 as Ground.

Wrap options allows to configure how the information is treated: for example if it will read the first rising edge or the first falling one. Clicking on the arrows it can be configured as desired.
Warning
Do not use EQEP_B to readd PPM, RPM or Pulse with Veronte units of Hardware version 4.5 or lower. It can only be used as digital I/O.
For more information on the stick configuration and how to set the RPMs correctly, visit : Stick and RPM.