External Transmitter Configuration¶
This section includes the information of how to connect an external PPM transmitter to control the platform fitted with the autopilot.
To use the joystick in the system, connect the PPMout of the trainer port to a digital input of Veronte and configure that digital input as the radio input in Pipe.
If the PPM level is 3.3V, pins 1-8, 10-17 and 55-58 pins can be used.
Veronte is compatible with standard Pulse Positon Modulation (PPM) signals between 8 and 16 channels.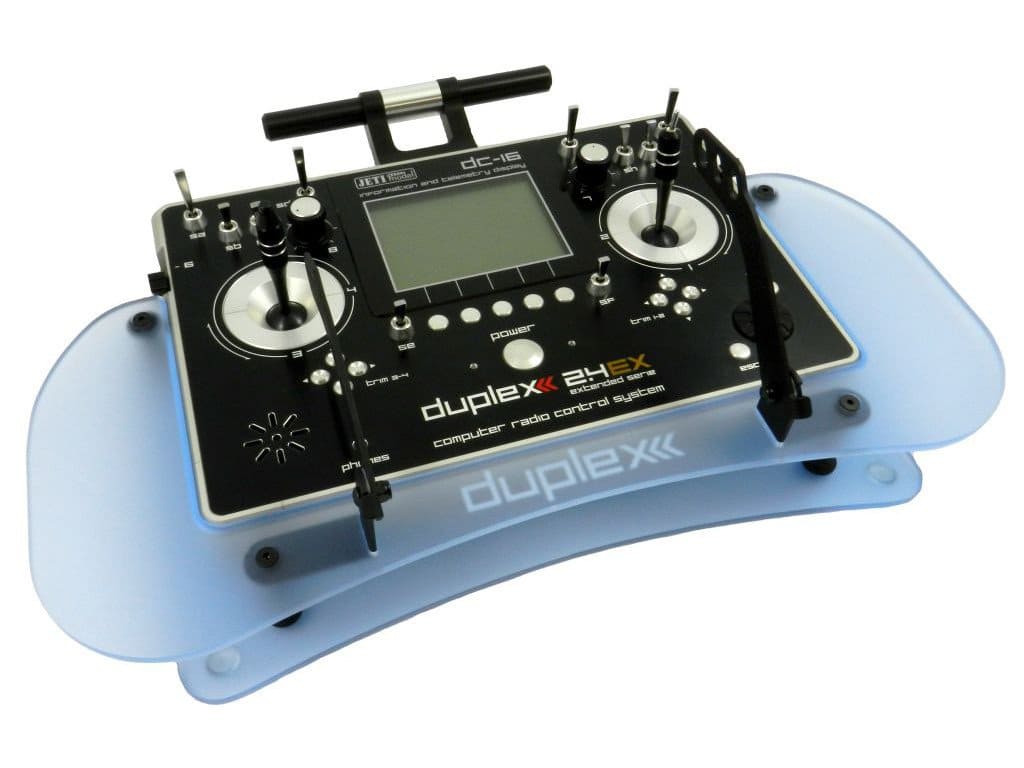 Jeti DC-16 Transmitter
Warning
Caution!! PPM signal must be into the Veronte voltage ranges. Some joysticks may need an adaptation board, please ask our team to check compatibility.
Veronte connector for CS is provided with 3.5mm stereo plug connector as follows:
Male Jack connector (3.5mm) pinout - CS Harness
In the side panel

, click on Setup, go to Devices

, the open the Stick tab, and finally go to the Local sources tab. A menu opens up with 4 tabs on top: PPM, Exponential, Trim and Output.
PPM¶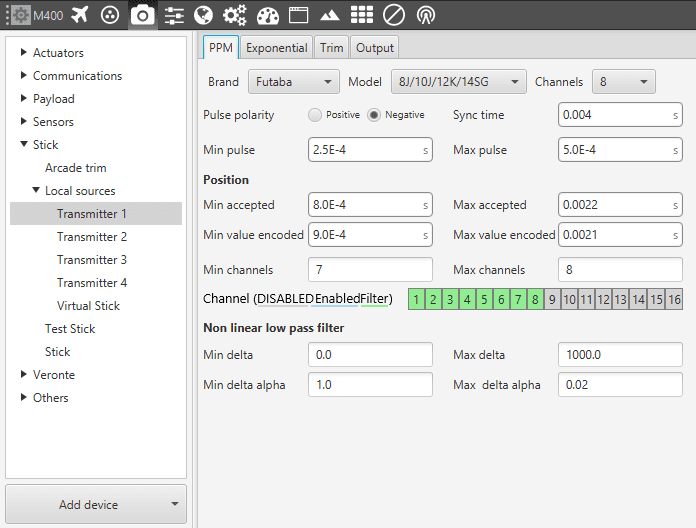 Stick Transmitter - PPM Configuration Parameters
Veronte Pipe can help the user by configuring the PPM panel in order to read the PPM output from the most famous transmitter brands:
Brand, Model & Channels:

Futaba.

Model 8J/10J/12K/14SG with 8 channels.

Model 12K/14SG with 12 channels.

Model T18SZ with 8 channels.

Jeti.

DC 16 / DC 24 with 16 channels.

FrSky.

Taranis 9XD with 8 channels.

X12S with 8 channels.
If the User's transmitter is not present in the previous table, it is also possible to configure the PPM parameters in order to match with the transmitter's PPM output.
Please check the Stick Configuration section for more information. In the same section, it's possible to find further information about Exponential and Trim configurations.
Output¶
Once the stick has been configured, the commands that arrive at the ground autopilot have to be sent to the air one.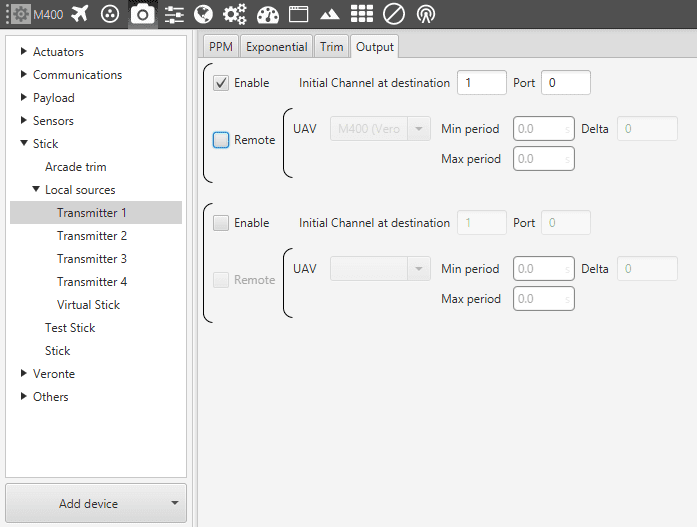 Stick Transmitter - Output
Toggling the option Enable, the user indicates at which channel of the AIR autopilot will be sent the first channel received in the GND autopilot. The channels arrive at the platform by order and without spaces between them i.e, if the external transmitter is sending the GND the channels 1,2,3,4 and 6, then the AIR autopilot will arrive channels 1,2,3,4 and 5, where channel 5 of the AIR will actually be channel 6 of the external transmitter.
The alternate option Remote permits the delivery of the commands to the platform by indicating the address on UAV (when Broadcast is selected, the commands are sent to all the air autopilots linked to the ground one).