4x Veronte Autopilot¶
4xVeronte Autopilot is a triple redundant version of the Veronte Autopilot. It includes three complete Veronte Autopilot modules together with a dissimilar arbiter for detecting system failures and selecting the module in charge of the control. The autopilot selected as the master will be the one controlling the actuators and communicating with the payloads, as seen in the following block diagram.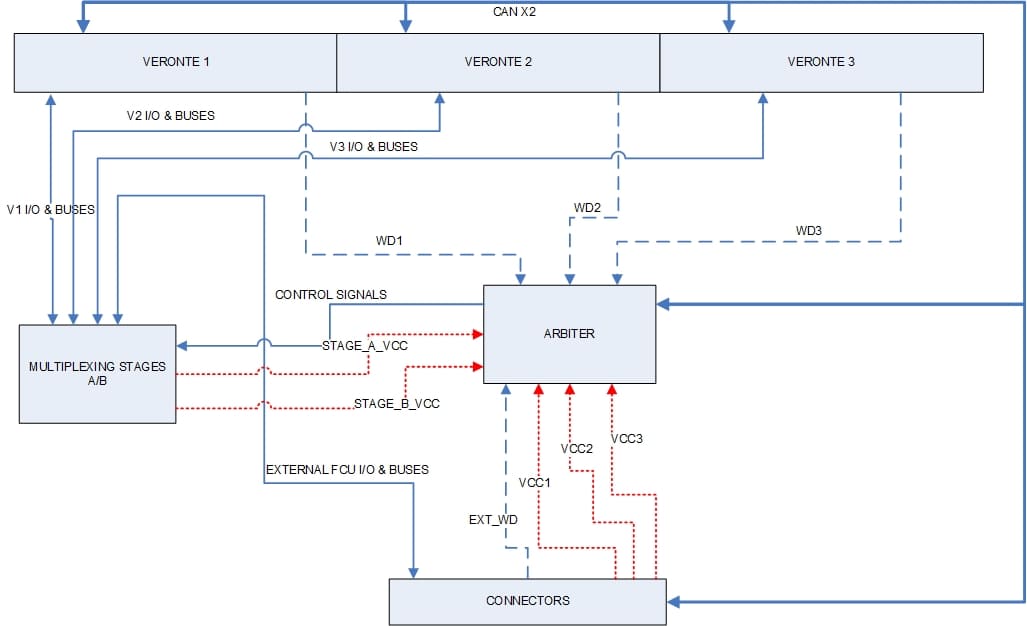 4xVeronte Overview
Each Veronte autopilot contains all the electronics and sensors in order to properly execute all the functions needed to control the UAV. Veronte executes in real time all the guidance, navigation and control algorithms for the carrying airframe, acting on the control surfaces and propulsion system and processing the signals from different sensors: accelerometers, gyroscopes, magnetometer, static pressure, dynamic pressure, GNSS and external sensors.
Additional I/O port is available for the connection of an external control system in case it is required and include it in the redundant scheme. It provides the system with full dissimilarity for high demanding environments as required by civil aviation authorities.
Datalink communications can be also redundant, being possible to install inside the autopilot 3 radios of different frequencies. For example, it allows you to have two radios working in the 900MHz frequency and one in the 2.4GHz, so in case there is any issue in the 900MHz band the module connected to the 2.4GHz band will take control. In addition, an external radio can be controlled as a critical device using the serial port in the redundant connector.
All three modules are managed by a dissimilar microprocessor. This arbiter includes voting algorithms for managing the module in charge of vehicle control. This microprocessor compares data from all modules in real time and processes it for discarding any autopilot module showing an undesired performance.
4xVeronte also includes two separate flight termination voting logics, completely dissimilar and implemented with simple hardware, with the purpose of giving the internal three Veronte Autopilots a way to decide by consensus if a flight termination signal should be activated or not.
This redundant device allows platforms to perform sensitive flight mission and transport valuable payload with advanced safety conditions and high reliabilty. By installing a triple redundant core it is possible to extend the MTBF (Mean Time Between Failures) in the system. This control module is also suitable for both, fail-safe and fail-operational missions. Extending the operability of the system.