Update¶
A setup wizard will be displayed in order to guide the user during the update process.
Warning
Although newer versions are usually compatible with older ones, when upgrading the system, updates must be done in the correct order. It is mandatory to update Veronte Pipe first, then Veronte Onboard and finally Veronte on the Control Station. Otherwise, part of the system could become unreachable.

Never turn off Veronte during the update process. It could cause irreversible damage to the unit.

When VerontePipe is updated be careful with managing .ver files. If the file was saved in a newer VerontePipe version, it will not be open in the actual one.
| Current VerontePipe | .ver last saving | Compatibility |
| --- | --- | --- |
| 5.28.x | 5.28.x | OK |
| 5.28.x | 5.22.x | OK |
| 5.22.x | 5.28.x | NO |
When having the last version of Veronte Pipe installed in the computer, now is the time to update the software of the autopilots. In order to do that, click on the unit you wish to update from the sidebar. Then the window shown on the right of the following figure will appear.

Compabtibility Mode
When clicking on Update, the next dialogue will appear on the screen.

Update Veronte Autopilot
User can select:
System image: With internet connection, the upgrading process will download the last version of the onboard software (in this case v2.12.7). User can also select a different system image from the PC.

Setup: Default option of the upgrading is the migration of the Setup. By clicking on the folder icon, user can open the following window and choose a way to upload a different Setup: Template, Select from PC or from Library.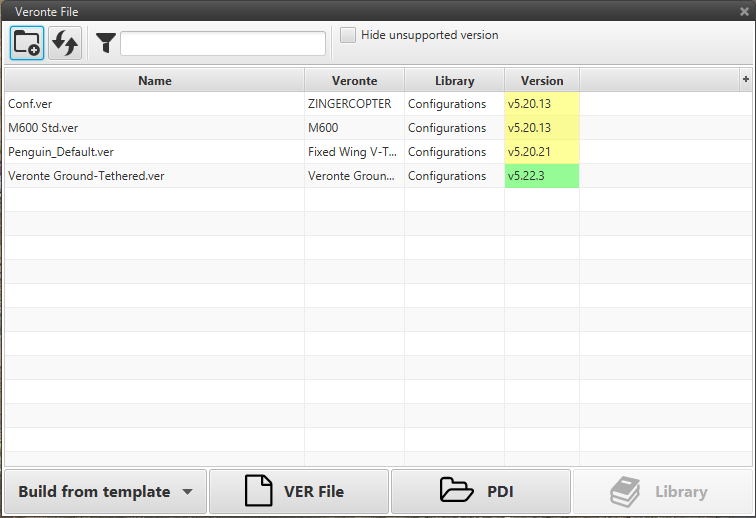 Veronte File Selection
The previous window shows info about Pipe version used to save the configuration. Cell colour indicates the .ver compatibility:
Green: Full compatibility.

Yellow: Compatibility, but it needs migration.

Red: No compatibility (.ver version is older than Pipe).
When the booting is completely configured, the user can launch the Update by clicking on the correspondent button and waiting until the end of the process.
Warning
During the update, the system will reboot so never perform an update during an operation.

Make sure you choose the right Veronte Update file for the selected Veronte Autopilot.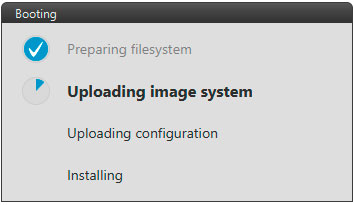 Booting Process