Serial¶
Two serial interfaces are available with Veronte Autopilots, RS-232 and RS-485, and more can be added by using the Can Expander Board. Each one of the serial interfaces is associated with a set of pins, which are displayed when an interface is selected.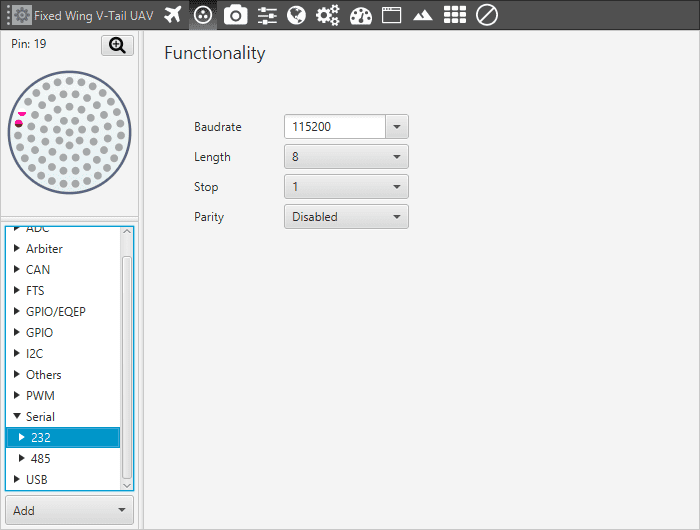 Connections – Serial
The following fields can be configured:
Baud rate: This field specifies how fast data is sent over a serial line.

Length: This field defines the number of data bits in each character.

Stop: Stop bits sent at the end of every character.

Parity: is a method of detecting errors in transmission. When parity is used with a serial port, an extra data bit is sent with each data character, arranged so that the number of 1 bits in each character, including the parity bit, is always odd or always even.
| | | | | |
| --- | --- | --- | --- | --- |
| Type | Start | Data | Parity | Stop |
| Bits | 1 | 4-8 | 1-2 | 1-2 |
Note
All these settings are already specified for a given device,therefore, Veronte should match with them in order to be able to communicate.
Compatibility table:
Port name

RS-232

RS-422 | RS-485

Transfer Type

Full duplex

Full duplex | Half/Full duplex

Maximum distance

15 meters at 9600 bps

1200 meters at 9600 bps

1200 meters at 9600 bps

Topology

Point to point

Point to point

Multi point

Max number of devices

1

1-10 in receive mode

32
Refer to examples for a complete implementation of a serial device communication.